_________________________________________________________
TRIO REDOX, please have "a Listen":)
______________________________________
AND HERE:

 review of the CD "puzzling" from Magazine "freistil":
___________________________________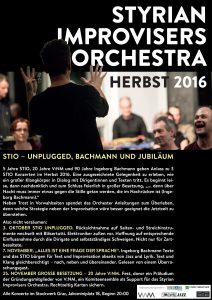 July 21st to 24th, 2016
Alpenglow5
Styria meets Trondheim
Matilda Rolfsson – Percussion
Elisabeth Harnik – piano
Annette Giesriegl – vocals
July 22nd at NiMuser, Trondheim (Norway)
_________________
31 July  to August 6th, 2016
Annette teaches at:
JAZZAKADEMIE SCHLOSS ZEILLERN, SOMMERSEMINAR
_________________________
2015
RECENTLY
BARCODE QUARTET ON TOUR IN BRASIL
:
August 28 | Jazz na Fábrica Festival | São Paulo
August 29 | Quintavant / Audio Rebel | Rio De Janeiro
August 30 | Estelita Recife | Recife
August 31 | World Circuit Música @ JazzB Club | São Paulo
 _______________________________
10th July, 20.00
Voices and Electronics:
With Iris Ederer, Atsuko Kamura, Sharon Gal, Kay Grant
London/UK
19th May 2015
TRIO REDOX
Katharina Klement -piano, Kaja Farszky – marimbaphon, Annette Giesriegl -voc
at Echoraum, Sechshauserstr. 66, 1150 Wien
21st to 24th May 2015
VNM Festival in Graz/Austria
May 21st:
QUARTET WITH:
Jean Christophe Mastnak – Alphorn, Yvonne Hofmeister – voice, Patrick Wurzwallner – drums, Annette Giesriegl – voice, electronics
Cafe Stockwerk, Graz
May 23rd :
TRIO REDOX
Katharina Klement -piano,Kaja Farszky – marimba, Annette Giesriegl -voc
Forum Stadtpark
May 24th:
STI CRI ORCHESTRA
 with musicians from Austria and Croatia
Forum Stadtpark Graz
7. März 2015
DENA DEROSE – VOCALS and PIANO, ANNETTE GIESRIEGL –  VOCALS
at:
FRAUEN LIEBEN
Lesung mit Musik und Film anlässlich des internat. Frauentages
Kulturzentrum im Amerlinghaus, Stiftgasse 8, 1070 Wien
Kommt nun herbei, Grazien zart, Musen mit schönen Haaren…
schrieb Sappho vor zweieinhalbtausend Jahren. Und begann das Wunder eines neuen Zeitalters.
Drei österreichische Autorinnen führen durch weibliche Lebenswelten: Marlen Schachinger, Si.Si Klocker, Anita C. Schaub
Konzept, Organisation, Moderation: Anita C. Schaub
13th and 14th March 
PATCHWORK VOICES – KONZERT UND WORKSHOP
at
JETZT ZEIT REIHE /Innsbruck
Konzert und Workshop mit Patchwork Voices
22. March 2015
TRIO REDOX
Katharina Klement -piano, Kaja Farszky – marimba, Annette Giesriegl -voc
at SONNENHANG House Concerts, Am Sonnenhang  2, 8062 Kumberg/A
S o n n e n h a n g Ho u s e C o n c e r t S
11th April 2015
AUSTRIAN IMPROVISERS ORCHESTRA
at Forum Stadtpark, 8010 Graz
Details TBA
2014
21.-24. Oktober 2014: WORKSHOP: Improvisation – Vokal/Bundeskongress der Neuen Musikmittelschulen Österreichs/www.musikhs.at

6. Oktober, 20.00 poetry minus one Stockwerkjazz, Jakominiplatz 18, 8010 Graz   3. November, 20.00 soundpoetry Stockwerkjazz, Jakominiplatz 18, 8010 Graz   9. Dezember, 20.00
 Die große Besetzung II – STIO trifft TIB Theater im Bahnhof, Elisabethinergasse 27a, 8010 Graz
27th November 2014, 20.00: Spontaneous Sound Adventures – SSA/GIESRIEGL-SCHINDLER-RADTKE (A/D)/Annette Giesriegl Stimme (Graz)/Carsten Radtke E-Gitarre/Udo Schindler   Blasinstrumente/ PöllatPavillion, Pöllatstrasse 11, München-Obergiesing/ Germany/http://www.arch-musik.de/
28th November 2014, 20.00: SOUND AND KLANG /Annette Giesriegl Stimme (Graz)/Udo Schindler Blasinstrumente/Bergstraße 28c, 82152 Krailling, Germany/http://www.arch-musik.de/
28th to 31st of AUGUST 2014 /ALPENGLOW VI – AUDIOART FESTIVAL – STYRIA MEETS CROATIAhttp://www.vnm.mur.at/